Frank Wood
Thank you Geoff and Phil for the following.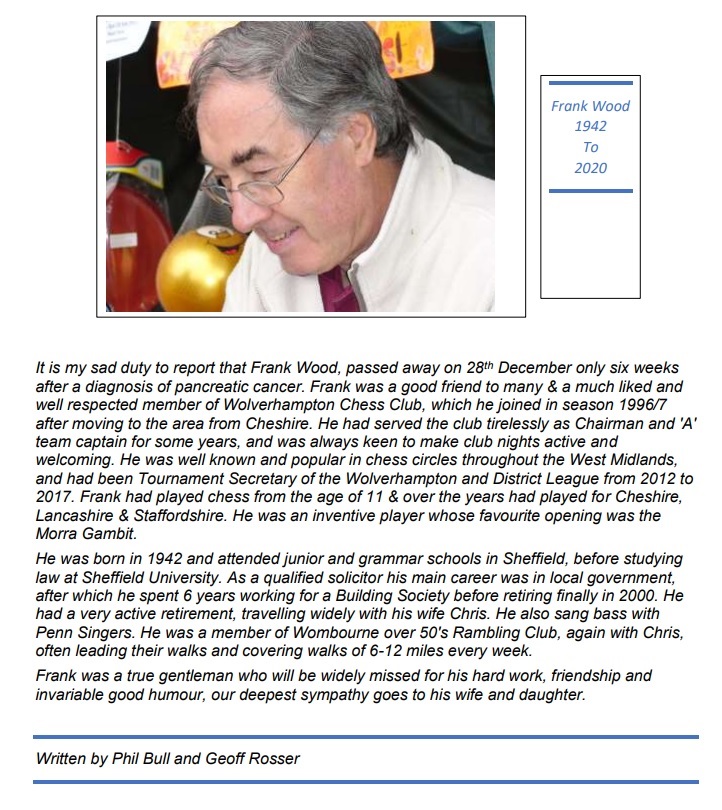 With great sadness, I write this brief, interim post and I'm sure there will be tributes soon, an obituary and more.

Club chair of many years and in more recent years, WDCL Tournament secretary, Frank Wood sadly passed away Monday 28th December 2020 and will be missed by so many and remembered forever, too, as one of Wolverhampton Chess Club's greatest.

Tributes

I am saddened by the loss of Frank Wood, who was not only a good administrator and good player. He was also a lovely bloke. Condolences to his family (Barry Smith).

-----------------------------------

I'm stunned by the news. Frank did an enormous amount for the league and for Wolverhampton as you know. Please pass my condolences to the family (David Fone)

----------------------------------

A sad loss, a wonderful man who'll be missed greatly. (Phil Bull)

-----------------------------------

Phil has called me with the news and it is indeed sad and a great shock.

Frank is such a gentleman and simply does not deserve such a cruel deal. I am completely taken aback despite the fact that this is my job day in and day out seeing and dealing with cases such as this. (Rajeev Raghaven)

--------------------------------------

I'll always remember Frank as he chaired meetings and awarded chess club trophies with Barry Lewis at Wolverhampton Chess Club. His great sense of humour, friendly manner too and the privilege of experiencing Frank's formidable ,Morra gambit and how he supported outdoor door chess club events. Frank was always there at the helm and will be missed by so many. Sincere condolences to Frank's family, (Paul Walters

)

-------------------------------------------

Would you be kind enough to convey our condolences to Wolverhampton CC members re Frank. (Ann and Alan Ruffle)

--------------------------------------------

Messages of shock and sadness have also been received from Chris Cox, Gordon Sands, Paul Walters, Eddie Badger, Dave Wightman and Steve Wilcox among others.

The Frank Wood Swiss memorial tournament held between 14th January 2020 and 25th February 2021 was won by Mike Townsend. Who achieved 1st place on 6 out of 7, just 1 loss in the final round to Tony Preece. Congratulations.

Also, runners up, Phil Bull 2nd and Tony Preece, both with 5 points and thank you to all participants and to Phil Bull for organising.

A superb tournament in honour of Frank Wood.

Well done, Mike Townsend, who led all the way.
---
Phil Porter

Writing to inform you of the death last week of Phil Porter aged 74 who had played in the local chess leagues especially WDCL and BDCL for close on 40 years and will no doubt be remembered by many players in the area. He will be sadly missed by many.

Phil joined Wolverhampton Chess Club in the late Sixties or early Seventies though after a few years left and joined the Wolverhampton Kipping club sadly now defunct. He rejoined Wolverhampton Chess club in the 1983/84 season along with two other well remembered players, Mike Townsend and Robert Marshall. P

Phil had an aggressive style of play and chalked up a few notable wins against stronger players. Phil had not played in league matches for about a year due to failing eyesight though he was hoping to resume play after an operation which he was on a waiting list for.

His other main interests were cricket - he was a qualified umpire In local leagues- and real ale which he espoused and consumed with equal gusto!

Phil's niece has told me that it is likely that some sort of celebration of Phil's life will be arranged at some time in the future and that she would let me have details. I will pass any such details on to yourselves in case there are others outside our club who might wish to be involved.

Best wishes.

Frank Wood

(25th July 2020)

Wolverhampton Chess Club Chairman
---
Robert Marshall
It's with great sadness that I announce and write this. Robert Marshall recently passed away age 57.
A great player and one of our club's strongest and finest. WDCL Rock Cup Winner and played on our highest boards for many years. Will be missed by all. Thoughts and condolences to Robert's family.
Near the end of 2020 Frank Wood passed away.
---
John Wakelam
And with more sadness, I say John Wakelam passed away in January. John held the post of records secretary for many years and will be fondly remembered by many AGM attendees as John sat beside Frank and announced AGM Trophy winners and end of season team standings for the various leagues. Condolences to John's family.
---
Mr Leslie Hesbrook: Les Hesbrook passed away 6 Nov 2010 at age 88.
Mr Leslie Hesbrook Tribute Page
Colin Bourne Jones passed away peacefully June 3 2011 aged 75 years. Sadly missed but fondly remembered by all his Friends and Family.
---
Alf Schroeder
Very sad news filtered through at the start of 2014 regarding Alf Schroeder who passed away Dec 31 2013. Alf was a longstanding member of Bushbury Chess Club but was a member of Wolverhampton Chess Club years ago and played on high county boards close to Alf Butcher. Condolences to Bushbury, family and all who knew Alf, a great player who'll missed by so many.
---